Every so often, we like to look back over our deluxe check figures and statistics. We do this for 2 reasons, the first one being it's good to know what's happening in the used car market and the second one being, we like to know that we are still helping used car buyers from making costly mistakes.
Buying a vehicle with outstanding finance or a logbook loan against it is one of these "big mistakes", and the short version of the story is, you stand to lose the vehicle and all the money you bought it with.
April and May finance fails/warnings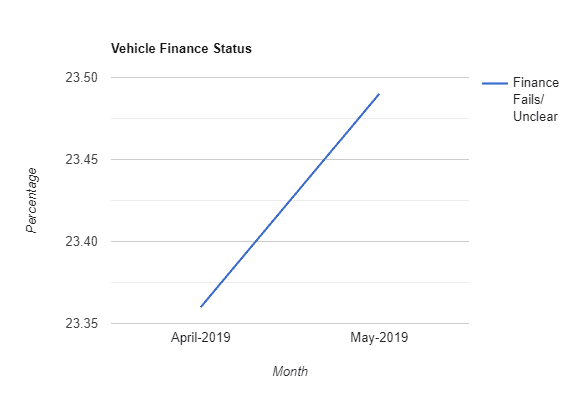 Breakdown of figures:
April 2019 – 23.36%
May 2019 – 23.49%
How we got these figures
We collected all the data from April and May 2019 – This data is from our comprehensive vehicle check (deluxe check). We did not include our standard check in this test as it does not check if a vehicle has outstanding finance against it.
What's causes a vehicle finance fail:
A vehicle with outstanding finance or a vehicle that has an unclear finance status, this could be a logbook loan (yikes) or another sort of finance agreement.
Conclusion from this data:
The data shows a slight rise in the number of vehicles with outstanding finance, the scary thing is whilst not a huge increase it's still an increase. Plus, these figures show that almost 1 in 4 vehicles we have checked in April and May 2019 had outstanding or unclear finance status.
This makes buying a used car without getting a vehicle history check a very risky move . Were not releasing these figures for our own benefit but rather so the public can be made aware and take the proper precautions when buying a used car. We would advise getting a full check if you are serious about buying a used vehicle.
We have also just started offering our mileage check for free, which can act well as an initial check before buying a full history check. For example if a vehicle fails the free mileage check (6.47% of the ones we checked did) then it's probably not worth buying it anyway. You can perform a free mileage history check by entering the vehicles registration below.
[tcc_allinsearchboxblog]