How To Mileage Check Any UK Vehicle By Registration
Checking a cars mileage before buying it is a good idea, we recently released statistics that show 3% of used vehicles we checked have questionable mileage.
Further to this, there are an estimated 2.3 million clocked cars on the roads of the UK. According to an auto express article released in November 2018.
This is proof that checking a vehicles mileage is more important than ever before. So, if you want to know how to check a vehicles mileage history then we can help, we have just created a new and free MOT history report which will give you a vehicle last 10 MOT mileage records.
Enter registration to reveal mileage history
How can this report help find mileage discrepancies?
Sometimes you can spot a clocked vehicle based on its mileage history, for example if you noticed a mileage record on 01/01/2018 that said the vehicle had done 48,000 miles then a newer mileage record on 01/01/2019 that said it's done 46,000 miles you would know something wasn't quite right.
However, this isn't always the best approach to finding a clocked vehicle, instead getting a full vehicle history check is a better idea.
What details are included in this check?
The Full last 7 MOT records (this includes things such as advisors and failures)
The last 10 Mileage records
The vehicles make & model
Fuel type (e.g. Petrol, Diesel or Electric)
Primary vehicle colour
MOT expiry date & Days left on MOT
Last time the vehicle had an MOT
The amount of MOT records the vehicle
This information is useful and free, so if you are considering buying a used car then take a minute to check the MOT history as well. But please don't forget that the MOT history is only one part of a vehicles history and if you are going to buy a vehicle, you should get a full history check as well.
How does this report work?
We have tried keeping things simple, so once you have entered your registration you will be taken straight to the report.
You can then see the last 10 mileage readings from previous mot tests.
Our MOT report will look like the one we have taken a screenshot of below.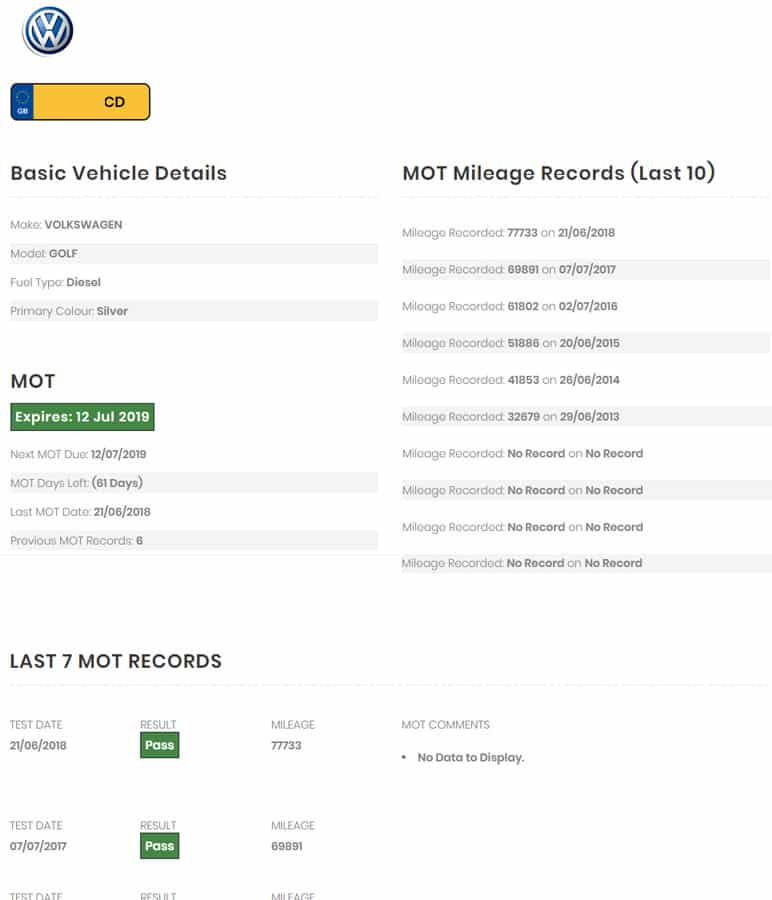 Our paid checks also look for false mileage
If you want a clear answer to whether a vehicle has mileage issues, then both our standard and deluxe checks cover this, both our paid reports include a car mileage check and the standard check only costs £2.95. So, it's good value for money and peace of mind for anyone who wants to reveal a cars history.
Here's an example of a vehicle that failed it's mileage check

So remember, it's not worth leaving it to chance, make sure you carry out the proper checks and don't take any chances when purchasing a vehicle.