In the never-ending process to provide more free vehicle data to our customers, we have finally introduced our free warning system, which includes 3 types of warnings on our free initial check.
3 Warning Types
We have introduced 3 new warnings to our initial check (which you can try yourself by entering a registration on the homepage).
Below we have explained the warnings and what they may mean about a vehicle's history.
Hidden history warning
Whilst fairly generic, the hidden history warning shows that a vehicle has hidden history, this could be a number of issues but usually indicated a vehicle has accident damage.
Seen on salvage warning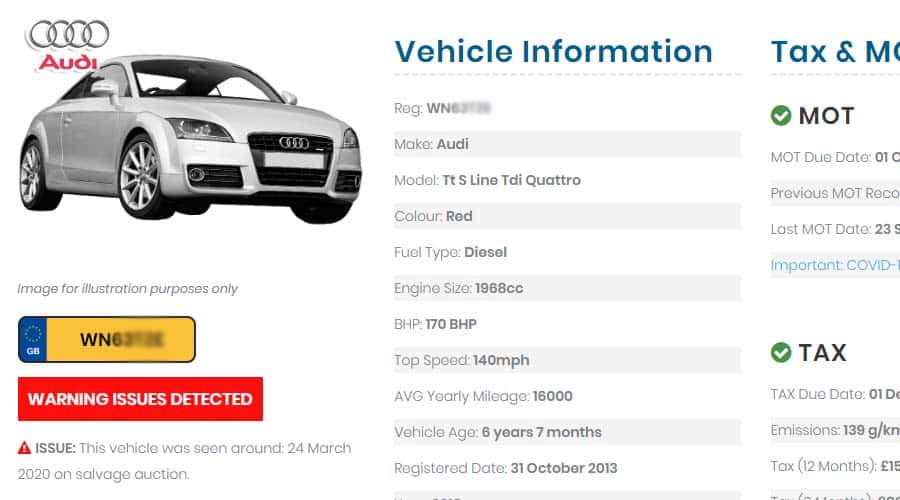 The salvage warning means that a vehicle registration has been seen on salvage auction and could indicate previous accident damage.
Mileage issues warning
The mileage issue warning could mean several things:
Mileage has been lowered between MOT tests.
Vehicle has a mixture of odometer unit readings (miles and kilometres).
Multiple warnings issued
From time to time, some vehicles may display multiple warnings.
Recent Statistics
These statistics were collected between the 5th and 19th of June 2020 (2 weeks). These warnings only include free searches that were performed via the initial check (and not our paid standard and deluxe checks).
Out of all free search warnings issued:
Mileage issue warnings displayed: 4774/6835 – 69.84%
Salvage warnings displayed: 1455/6835 – 21.28%
Hidden history warnings displayed: 746/6835 – 10.91%
Multiple warnings displayed – 2.03%
Overall free search warning statistics:
Total warnings issued on free searches: 7.71% of all free searches
Average warnings issued per day: 488 warnings a day
On average 1 in 14 free searches has a warning
What's the aim?
The main aim of free warnings is to offer users a better all round experience. we are aiming for a 10% warning rate on free searches overall by the end of this year.
How can I check the free warning system?
Simply perform a search on the homepage or by entering the registration below. If we know the vehicle has any of the issues explained above, we'll display a warning at the top of the initial report.
[tcc_allinsearchboxblogmileage]
Are we offering the most comprehensive free check?
As far as we are aware, we are offering more free warning data in terms of a vehicle's history than any other vehicle history checking website.
Is this as good as a paid check?
No, our free warnings system is something we want to keep working on and improving over time, but at the minute our deluxe check is the best way to check a vehicles history. We previously compiled deluxe check data in March 2019 and found that 30% of vehicles failed and 6% had warnings.
Got a question or feedback?
We love feedback and questions, please feel free to contact us via email: enquiries@rapidcarcheck.co.uk or add a comment below!